Submitting an outdated freelance writer resume is like telling a potential client that you don't pay attention to detail. If you can't prioritize your own writing project, how good of a job could you do for them? 😬
I've made the mistake of submitting a resume and saying, "This is my most recent resume, and my LinkedIn is more up to date."
Translation: I haven't bothered fixing my resume, so look at my LinkedIn instead.
How unprofessional.
When the alternative is taking a couple of hours to revise my resume, why wouldn't I do it? I bet some of those clients asked the same thing.
I may have even lost job opportunities because of it.
3 Reasons You Should Have a Freelance Writer Resume
As you may have guessed, I always suggest having a freelance writer resume. Before we get into the "how," let's talk about the "why." Later on, I'm going to show you resume examples pulled right from my own.
A freelance writer resume is simple to put together.
Even a lengthy resume takes about a day or two of work to create. "It's not possible to write a professional resume that fast," you say? Of course it is.
For starters, you're a writer — it won't be difficult to find the right words. 
Also, this is your work history. You don't have to interview a client about their experience to figure out what they did at their last job and then write the resume.
You know exactly what you did and which aspects of each job you want to present. Now you just have to get it into words on a page. Easy peasy.
Resumes only require a small amount of maintenance.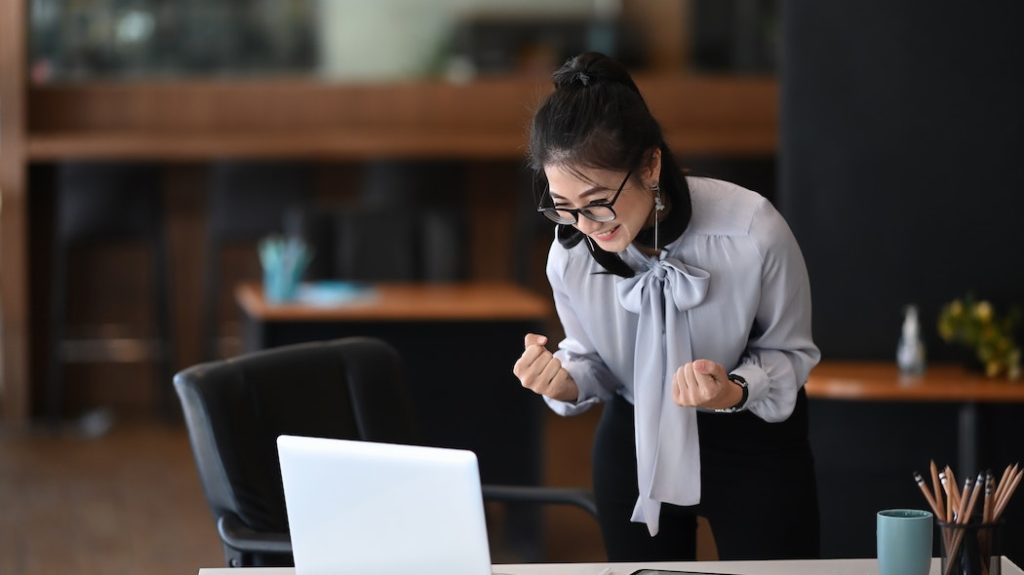 Once you have a completed freelance writer resume, you only have to update it when there's relevant work experience to add or adjust. 
This may be as seldom as once a year (or less) if you don't have too many job or freelance writing career changes. Even if it's more frequent, it may only take two or three sentences to keep your resume up to date. 🙌
Whatever the case, updating a freelance writer resume is far easier than creating one from the ground up. I schedule a LinkedIn and resume update once a quarter (every three months) to stay on top of it.
If a client asks for a resume, you'll have it.
Do you assume you don't need a resume to apply to freelance writing jobs?
I've needed it a number of times. I've even missed job opportunities because I didn't have an up-to-date resume and couldn't submit the application without it.
Which is better: Never needing a freelance writer resume and having it anyway, or needing one but not having it ready to send? 🤔
How do I write a freelance writer resume?
If you've had one freelance client at a time and they've provided all of your income or relevant experience, then you can write a traditional resume.
(Similarly, if you have a particular job that's made up a big chunk of your freelancing experience, you can list that as you would on a traditional resume. Then, use the following tips for building out the rest of your freelance writer resume.)
Chances are, you've had multiple clients at a time across multiple niches and/or writing services. In that case, I suggest segmenting your resume by type of work.
---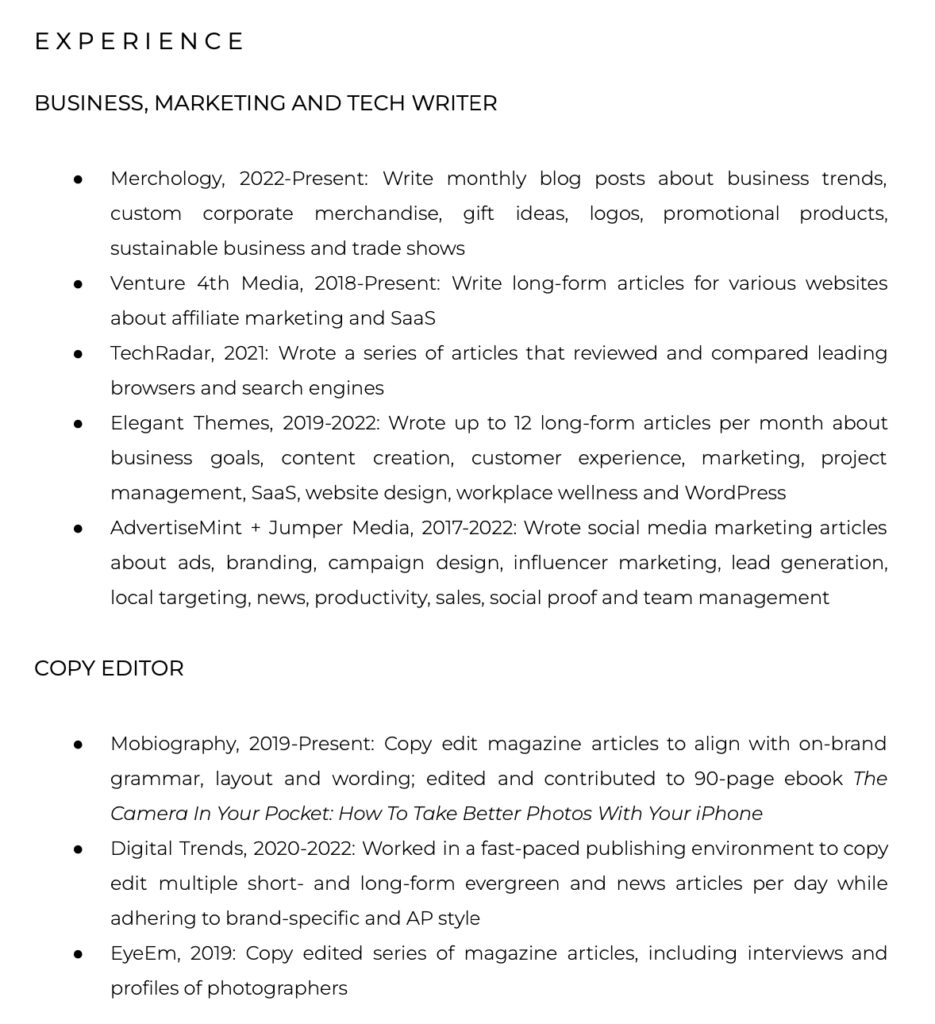 ---
You may have one section for your writing work and another for your marketing work. Or you may break up your writing work into different niches and have a section for each. You could also organize your freelance writer resume by key skills, such as Facebook Ad copywriting, press releases and content writing, regardless of the niches.
Under each main work history heading, I like to keep the bullets traditional, meaning I only include three to five per section.
---
---
Also, and I'm sure this doesn't have to be said, but make sure your resume is free of grammatical errors. 🤯
What else should I put on my freelance writer resume?
Contact Info
At the top of your resume, you should have your name, primary job title(s), contact information and professional URL, if you have one.
If you only have a personal website right now and it's not professional enough to show potential clients, leave it off. In its place, you can add the URL to your LinkedIn profile, online portfolio, etc.
Personally, I don't like including my full address. Instead, I have my city and state only.
Objective, Profile or Summary
You can opt to have a freelance writer resume objective, profile or professional summary at the top of your resume.
An objective is best if you don't have a lot of experience writing and want to state your goals. A profile or summary (the terms are interchangeable) is for more established freelancers who want to sum up their background.
If you're an established writer, you can include impressive stats in your summary, too. For example, if you increased customer engagement by a high percentage in a short period of time in one of your past roles, brag about it here.
Here's what my freelance writer resume profile looks like. Short and sweet:
---
---
Learn more about how to write a resume objective or summary here.
Education
This is a standard part of a resume. If you graduated from high school or college, or if you have any other type of educational background, don't leave it out. 🎓
Some people think that freelance writers don't need a degree, so even if they have one, it doesn't matter if it's included on the resume or not. However, I've come across a number of jobs that I was only able to apply to because I have a bachelor's degree in English.
TL;DR: Include your education, no matter what you hear on Reddit about not needing it.
Skills
Your freelance writer resume skills section can include relevant soft skills (personality traits) and hard skills (job-related expertise).
Don't waste space on obvious ones. For example, you wouldn't add 'writing skills' because as a freelance writer, the client or hiring manager assumes you have writing skills.
Instead, you can list key skills, such as:
Content marketing
Meeting strict deadlines
Organizational skills
SEO content strategies
Technical skills
Time management
Go into a bit of detail where you can, too. For example, instead of saying 'Microsoft Word,' which most people are familiar with, describe a specific MS tool you use that will benefit the client.
Here's what my freelance writer skills section looks like:
What does a freelance writer resume look like?
A freelance writer resume looks similar to a traditional one.
The main difference is that instead of listing a role at a company, you'll list the type of writing service you provide, followed by bullet points with descriptions pulled from your best freelance writer experience.
---
---
My resume is broken down into three main sections:
Business, Marketing and Tech Writer
Copy Editor
Assorted Projects
Under 'Assorted Projects,' each line goes into a different type of service, like travel writing, email copywriting, digital marketing, etc. This is where I include minor work experience that's still worth mentioning.
If you're looking for a freelance writer resume sample, take a look at mine.
How do I make a freelance resume with no experience?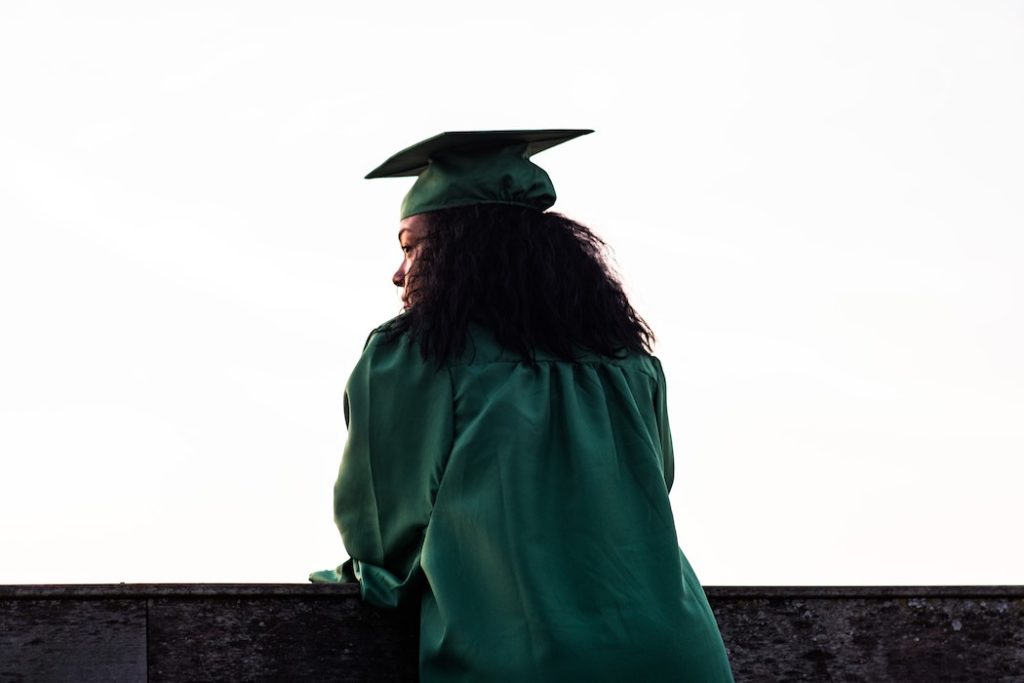 If you're a total beginner and don't have any freelance experience to include, you should still show your pre-freelancing education and work history. Then, if a client or freelance writing job application asks for it, you'll have something to send.
In the objective section at the top of the resume, you can talk about the type of freelance work you're seeking. This will give the client an idea of what you offer even if you don't have closely related experience yet.
Should I have a different resume for different freelance writer jobs?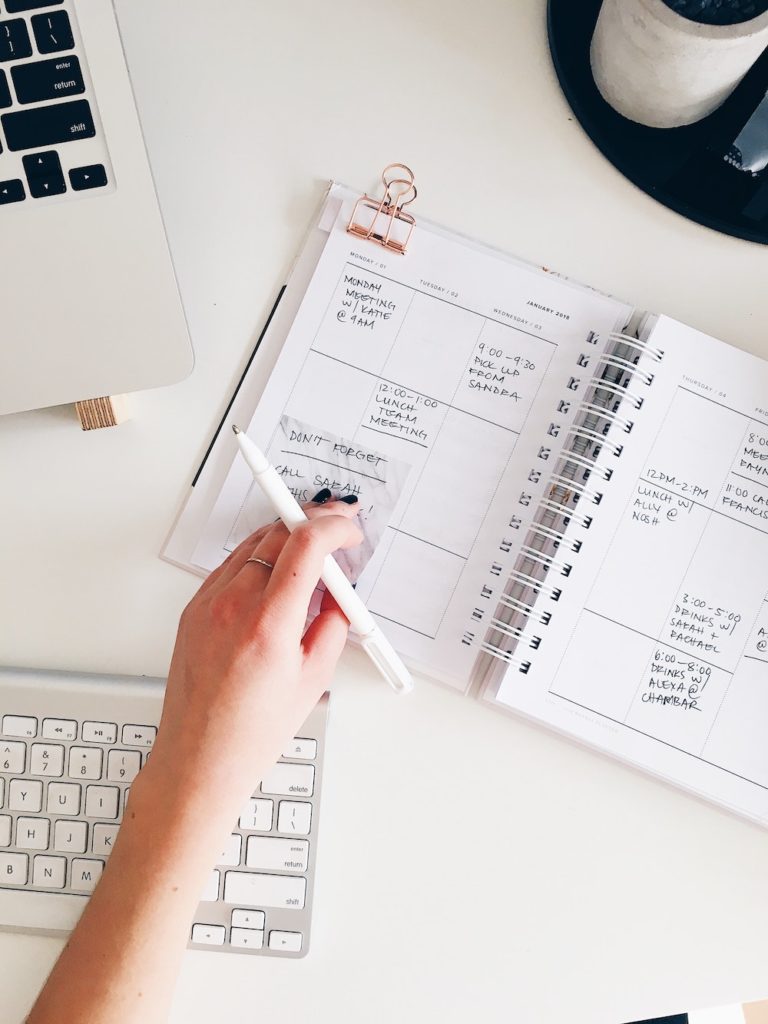 You can, but that's tons of work upfront. 😫 Instead, have a main resume you use most of the time, with some pinch-hitter entries that you add or swap for others depending on the type of job you're applying for.
An effective freelance writer resume will be geared toward the job, but as you hone in on what you want to do, chances are that your standard resume is often going to be appropriate for the job you're applying to.
If you prefer diverse clients and job opportunities, though, it's smart to have different resumes or replacement entries to highlight your top skills that are appropriate for the role.
Freelance writer resumes can be daunting.
If you're having a tough time getting yours together, get in touch. I offer business coaching to freelance writers. Learn more here.